World news
Monday, 01 April 2013 18:55
Published on 29 Mar 2013
Kevin Annett: Pope Francis, Queen Elizabeth arrest warrants; USA Bishop breaks with Vatican
READ ARTICLE AT:
http://exopolitics.blogs.com/exopolit...
Open minds
Saturday, 30 March 2013 13:58
Important links:
Published on 26 Mar 2013
http://www.thetruthdenied.com/c2010/s...

Show: The Truth Denied Talk Radio
Host: Roxy Lopez
Guest: James Gilliland of Eceti Ranch Visit James Gilliland's website www.eceti.org
TOPIC: The Higher Dimensional Aspects of UFOs, The Archon Network, & Wars in the Heavens

James Gilliland is a minister, counselor, an internationally known lecturer, best selling author with the books, Reunion with Source, Becoming Gods, and The Ultimate Soul Journey. James appeared in Contact Has Begun, His Story, The History Channel, UFOs then and Now, UFO Hotspots, ABC, Fox News, BBC Danny Dyer Special, Paranormal State, ECETI Ranch a Documentary, and the new movie Thrive have all featured James and ECETI which he is the founder. He has appeared on Coast to Coast, Jeff Rense, and to numerous other radio shows to mention also being the host of, As You Wish Talk Radio, www.bbsradio.com and Contact Has Begun, www.worldpuja.net. He is a facilitator of many Eastern disciplines; a visionary dedicated to the awakening and healing of Humanity and the Earth and teaches higher dimensional realities from experience.
Read more...
Open minds
Thursday, 28 March 2013 18:41
Published on 19 Mar 2013
Please see these articles for additional background:

1. Pope Francis: His Jesuitical, Extraterrestrial, "False Prophet", and Political Identities
By Alfred Lambremont Webre
http://goo.gl/mXoQh

2. Papa Francisco: Sus identidades jesuíticas, extraterrestres, de "Falso Profeta", y políticas
por Alfred Webre Lambremont, JD, MEd
http://goo.gl/xrdjD
Sverige Nyheter!
Thursday, 28 March 2013 14:46
Asylum ... Julian Assange is in the Ecuadorian Embassy in London, fighting extradition to Sweden. Photo: AP
The top Swedish prosecutor pursuing sexual assault charges against Julian Assange has abruptly left the case and one of Mr Assange's accusers has sacked her lawyer.
The turmoil in the Swedish Prosecution Authority's effort to extradite Mr Assange comes as another leading Swedish judge prepares to deliver an unprecedented public lecture in Australia next week on the WikiLeaks publisher's case.
The Swedish Prosecution Authority want to extradite Mr Assange to have him questioned in Stockholm in relation to sexual assault allegations by two women.
Fairfax Media has obtained Swedish court documents that reveal high-profile Swedish prosecutor Marianne Nye has unexpectedly left the handling Mr Assange's case, effective from Wednesday, and has been replaced by a more junior prosecutor, Ingrid Isgren. The reasons for the change have not yet been disclosed.
Advertisement
One of Mr Assange's two accusers, political activist Anna Ardin, also applied to the Swedish courts on February 28 to replace her controversial lawyer Claes Borgstrom. Ms Ardin complained that she found Mr Borgstrom spent much more time talking to the media than to her, referred her inquiries to his secretary or assistant, and that she had lost faith in him as her legal representative...........read more
World news
Wednesday, 27 March 2013 17:15
The Peruvian government has declared an environmental state of emergency after finding elevated levels of lead, barium, and chromium in the Pastaza River in the Amazon jungle, reports the Associated Press. Indigenous peoples in the area have been complaining for decades of widespread contamination from oil drilling, but this is the first time the Peruvian government has acknowledged their concerns. Currently 84 percent of the Peruvian Amazon is covered by potential oil blocs, leading to conflict with indigenous people and environmental degradation.
The Peruvian Environment Minister, Manuel Pulgar-Vidal, said that Pluspetrol, which has operated the oil bloc in question—1 AB—since 2001, would be liable for cleaning up the pollution. But the minister also noted that Occidental Petroleum, which operated the bloc from 1971-2001, had not been environmentally responsible in its operations either.............read more
World news
Wednesday, 27 March 2013 13:36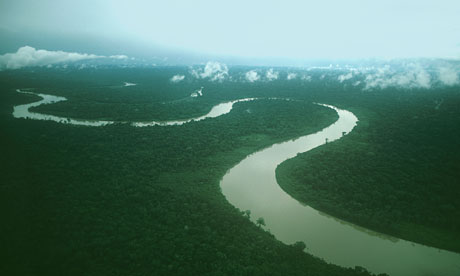 Indigenous groups in Ecuador say the planned oil projects would devastate the environment and threaten their traditional way of life. Photograph: Alamy
Ecuador plans to auction off more than three million hectares of pristine Amazonian rainforest to Chinese oil companies, angering indigenous groups and underlining the global environmental toll of China's insatiable thirst for energy.
On Monday morning a group of Ecuadorean politicians pitched bidding contracts to representatives of Chinese oil companies at a Hilton hotel in central Beijing, on the fourth leg of a roadshow to publicise the bidding process. Previous meetings in Ecuador's capital, Quito, and in Houston and Paris were each confronted with protests by indigenous groups.
Attending the roadshow were black-suited representatives from oil companies including China Petrochemical and China National Offshore Oil. "Ecuador is willing to establish a relationship of mutual benefit – a win-win relationship," said Ecuador's ambassador to China in opening remarks.
According to the California-based NGO Amazon Watch, seven indigenous groups who inhabit the land claim that they have not consented to oil projects, which would devastate the area's environment and threaten their traditional way of life..........read more
World news
Wednesday, 27 March 2013 12:32
Source: http://www.againstcronycapitalism.org
We are seeing a slow motion run on the Federal Reserve. Around the world faith in the dollar is on the wain and sovereign governments are becoming more concerned with the whereabouts of their ultimate store of wealth, gold.
During the cold war many governments sought the perceived safety of of storing their gold in the United States, protected from the communist menace in the Old World. Germany and many other countries moved their gold stores to the New York Fed for safe keeping. If all else failed and the Red Army rolled across the Polish plains and into Western Europe, at least the core wealth of Europe would be safe in the free world.
But times have changed. All around the world financial leaders are looking over their cards at the other players at the table. Many are looking at the US who actually holds their chips. The Soviet menace is gone. Why should I have to ask the United States for my chips when I want to play?
Plus the USA isn't the straight shooter many thought it once was. Uncle Sam might be getting a little too cozy with the chip piles. He actually thinks that he's the house. Maybe the American casino isn't the best bet any longer.
Even Texas, which thinks it is it's own country anyway, wants its gold back. There is a move in the state legislature (and backed by the Governor) to "repatriate" Texan gold from the New York Fed vault..........read all
World news
Tuesday, 26 March 2013 08:54
A breakdown of the number of National Security Letters the FBI has issued to Microsoft targeted accounts ("identifiers") for user data. Source: Microsoft
Microsoft said the Federal Bureau of Investigation is secretly spying on its customers with so-called National Security Letters that don't require a judge's approval, a revelation Thursday that mirrors one Google announced two weeks ago.
Redmond, Washington-based Microsoft announced that the type of accounts the feds are targeting with National Security Letters, warrants or court orders include Hotmail/Outlook.com, SkyDrive, Xbox LIVE, Microsoft Account, Messenger and Office 365.
The announcements by the two tech giants mark the first time U.S. companies have divulged they were secretly responding to National Security Letters and coughing up user data to the bureau without probable-cause warrants. And the Microsoft announcement comes six days after a federal judge declared National Security Letters unconstitutional and gave the President Barack Obama administration 90 days to appeal the ruling.
The NSLs, which have been issued nationwide hundreds of thousands of times, are written demands from the FBI that compel internet service providers, credit companies, financial institutions and businesses like Google and Microsoft to hand over confidential records about their customers, such as subscriber information, phone numbers and e-mail addresses, websites visited and more as long as the FBI says the information is "relevant" to an investigation..........read all
World news
Monday, 25 March 2013 20:19
Källa: http://kristofferhell.net/norges-regering-utreds-for-krigsbrott/
Den 22:a mars 2013 anmälde det norska vänsterpartiet Rødt statsminister Jens Stoltenberg och statsråden Jonas Gahr Støre och Grete Faremo och den norske försvarschefen Harald Sunde för de krigsbrott Norge begick under anfallskriget mot Libyen 2011.
Rødt Anmelder Stoltenberg, Støre og Faremo for krigsforbrytelser
Nedan återfinns länken till den infoprtal för den anmälan mot den svenska regeringen, riksdagen och försvaret närmare 700 personer gjorde för krigsbrott i Libyen 2011:
Inspiration
Monday, 25 March 2013 12:53
Published on 24 Mar 2013
A close up, in depth look at the energetic center of gravity in April's composite chart. It appears that, like last month, the planets are working on our economic relationships, only this time there is a very heavy, very specific focus on work relationships and on the job responsibilities and commitments. This video is about what's going on in the 6th house.
http://carlboudreau.blogspot.se/
Sverige Nyheter!
Saturday, 23 March 2013 21:52
March 21, 2013
Writer, former-journalist, artist and musician Ole Dammegård returns to continue our series on the assassination of Swedish Prime Minister Olof Palme, as detailed in his book "Coup d'etat in Slow motion." Previously in part 1 and 2, Ole uncovered the real facts behind the assassination. He pointed out the similarities to the JFK assassination. In the first hour, we talk about the paper work associated with the cover up. We focus on the autopsy report and the strange suicide of Doctor Milan Valverious, who signed Palme's Death Certificate. We further discuss the discrepancies in the police timesheets & radio communications. The testimony of the first police inspector on sight, Gosta Soderstrom, whom Ole interviewed many times for his book, clashes with how the events are said to have unfolded. In the second hour we'll cover the Estonia catastrophe, Europe's worst maritime disaster since World War II. 852 people died and the wreck is to this day still on the ocean floor of the Baltic Sea. Ole explains how the ship was sunk intentionally. He'll talk about the military exercises ongoing that day and the military equipment that was transported by the ship. Finally he details how it connects to the assassination of Palme.
Source: http://www.redicecreations.com/radio/2013/03/RIR-130321.php
Take control of Your own Health!
Friday, 22 March 2013 16:33
Två män har det senaste halvåret fått skadestånd med motivet att deras cancer orsakats av mobilen Det senaste fallet gäller en israelisk advokat som får 700 000 av den israeliska mobiloperatören Partner Communications efter en privat uppgörelse. I oktober 2012 beviljade Italiens högsta domstol skadestånd till en affärsman vars hjärntumör bedömdes vara orsakad av mobilanvändning.
I det israeliska fallet gick advokaten först till domstol och krävde motsvarande 17 miljoner kronor (10 miljoner shekels) i skadestånd av mobiloperatören Partner Communications efter att ha fått en ovanlig och aggressiv cancer, lymfom, vid det vänstra örat där han brukade hålla mobilen. Mannen hade använt mobilen i sitt arbete som advokat under ett par år. Fallet avvisades i första domstolsinstans, men bedömare anser att operatören gick med om en förlikning för att stoppa fortsatt process och risken för att advokaten skulle vinna i högre instans. Trots att överenskommelsen skulle vara hemlig har den läckt till media.[i]
Juridiska bedömare anser att det endast är en tidsfråga innan en ström av cancerpatienter kommer att kräva skadestånd med motiveringen att mobiltelefonen orsakade eller bidrog till sjukdomen. Dessa skadeståndsanspråk kan få betydande konsekvenser för företag i mobiltelefonbranschen och riskerar att sänka deras värde.[ii]
I oktober 2012 avgjordes ett liknande ärende i Italiens högsta domstol. En hjärntumördrabbad affärsman, Innocenzo Marcolini, som hade använt mobiltelefon och trådlös telefon i sitt arbete under många år, fick skadestånd för arbetsskada........läs allt
Inspiration
Thursday, 21 March 2013 18:38
Published on 20 Mar 2013
Sometimes in life I just don't know,
If I should stay or I should go,
For the fires of hope to burn bright inside me,
I must throw up my hands and allow Love to guide me.
Happy Vernal Equinox! As the Sun moves into the sign of Aries it marks the beginning of a new astrological year/cycle - get on your mark, get set, GO! It is also one of two days in the year when there is equal day and night. What a great time to celebrate the re-balancing of the masculine and feminine, light/dark, day/night, +/-, yang/yin, the eternal dance of light! Please take the time to read the two poems below the Pele Report "If you want to change the world.... love a woman" and "If you want to change the world......love a man" which I have found truly moving and I hope you do too.

Astrologically, we are entering a rather intense couple weeks with the Sun joining Mars, Uranus, and tomorrow Venus in Aries, the sign of the Warrior. This is a time to be very alert, ON IT, and ready to act at a moments notice.... time to get going! Simultaneously, it is a time when things can be very up in the air and unstable. This condition is pushing us further and further into really trusting our instinct and our connection to Source. The advice is to trust yourself and act with and for Love. Let the rest go and watch the magic happen. It's when you are stuck that you get pushed, so unstrick yourself, get going, and you will be less likely to be shocked, surprised, and kicked in the butt by someone or something else! Injoy!
World news
Wednesday, 20 March 2013 14:32
Published on 16 Mar 2013
In this episode of the Keiser Report, Max Keiser and Stacy Herbert ask why China fears currency war. They also look at Johnson & Johnson's big loss on Venezuela's currency devaluation and what this means in a currency war world where major devaluations can happen at any moment. In the second half of the show, Max Keiser talks to Jim Rickards, author of Currency Wars, about which nations are winning the war........
Read more...